News
News » Recent articles »

Oxford @ AMS
Oxford @ AMS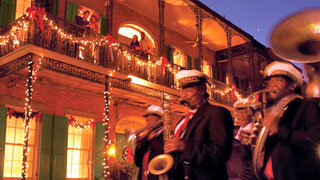 Known as the home, variously, of jazz, rhythm & blues, rock & roll, bounce, hip hop, cowpunk, and much else besides, New Orleans will also be the temporary home next week (1-4 November 2012) for around 3000 musicologists from across the globe. The meeting of the American Musicological Society is the largest annual showcase for musicology in the world. This year the AMS is joined by a number of other major North American societies, including the Society for Music Theory and the Society for Ethnomusicology in order to explore the intersections between their various disciplines. The latest research from Oxford will be on show there.
The work of Professor Georgina Born will be spotlighted in a panel devoted to her notion of a 'relational musicology', as presented in her recent article, 'For a relational musicology: music and interdisciplinarity, beyond the practice turn', JRMA, 135/2 (2010). The session is titled 'Envisioning a "Relational Musicology": A Dialogue with Georgina Born', and is chaired by Professor Tamara Levitz (University of California, Los Angeles). Aside from Professor Born herself, other participants include Brigid Cohen (New York University), Ryan Dohoney (University of Kansas), Marion A. Guck (University of Michigan), Ruth Rosenberg (University of Illinois), Benjamin Steege and Matthew D. Morrison (both Columbia University).
A second panel titled 'Musical Propertization in the Digital Age' will be chaired by Andrew Eisenberg and showcases the ERC-funded Music, Digitisation, Mediation (MusDig) research programme based in the Faculty. Papers wll be presented by Andrew Eisenberg and Aditi Deo (both Oxford), Alexandrine Boudreault-Fournier (University of Victoria) and Henry Stobart (Royal Holloway, University of London).
Other papers being given in New Orleans by members of the Oxford Music Faculty are:
Dr Nicholas Attfield (Lecturer, Christ Church), 'A Medieval Model for the 1920s: Anton Bruckner as Mystic'
Dr Margaret Bent (All Souls College), 'Jacobus de Ispania?'
Dr Rachel Moore (JRF, Worcester College), 'Patriotic Rhetoric on the Parisian Home-Front, 1914-1918: Saint-Saëns's Germanophilie as a Propaganda Prototype'
Dr Adeline Mueller (JRF, New College) is contributing to the round table on transcription and proto-ethnography in the 18th century
Dr Jason Stanyek (St John's College), 'Brazil in the Lofts: Brazilian Jazz(mania) in New York City, c. 1980'
In addition, Dr Bent is chairing the session devoted to discussion of Johannes Ciconia (c. 1370-1412) and Dr Stanyek is co-chairing the session devoted to discussion of fifty years of Bossa Nova in the United States.
The full programme for the event can be found here.